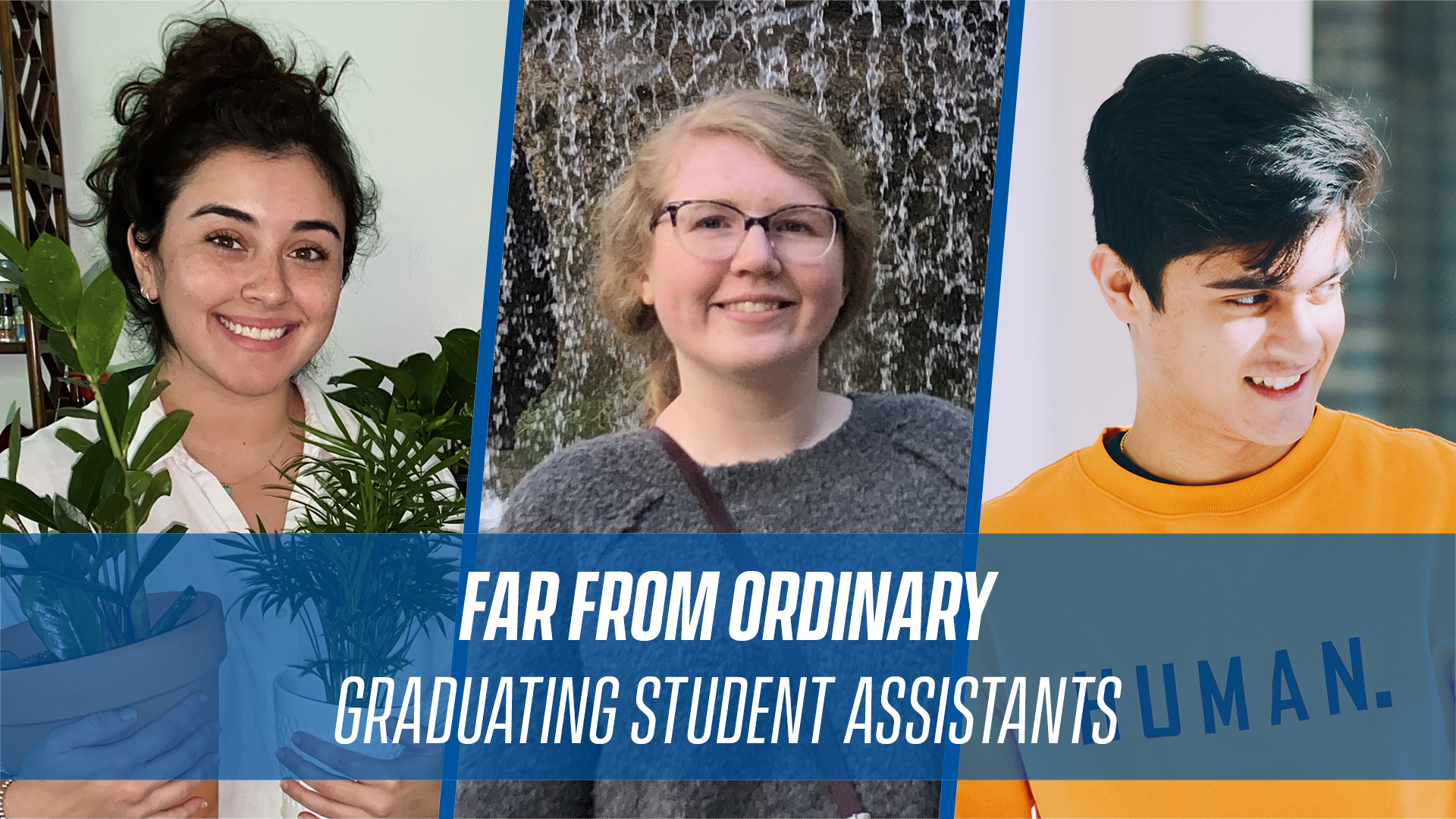 (L-R) Student assistants Lauren Lee, Jennifer Ptak and Aditya Shukla.
Far from Ordinary: Graduating Student Assistants
By Allison Ebner
Throughout Morris Library, the galleries on campus and the branch libraries, you'll find more than 140 student assistants helping the UD community access resources they need for their research and creative pursuits.
Some of those individuals are easy to spot. They're in public-facing roles, helping you check out books, DVDs and equipment; answering questions at service desks; and welcoming visitors to the galleries.
Others work behind the scenes, returning books to the shelves, scanning print materials for electronic delivery, and helping to repair and create housing for fragile materials.
All of these roles are essential in supporting the success of the students, faculty and community members who use our resources. Each day, they bring their warmth, excitement and determination to help others, while gaining experience in customer service, leadership and technology training they can take into their future careers.
While this semester has been far from ordinary, we thank our extraordinary student assistants for everything they do.
Below, we've highlighted a small sample of our graduating student assistants to share some of their achievements so far and the adventures that await on their horizons.
Showvik Haque
We're not entirely sure when he has time to sleep because Showvik Haque does it all. He's a mechanical engineer, a resident assistant, a researcher at the Center for Composite Materials and a member of the Isodynamic Hip Hop Dance Crew on campus. He's also a photographer, who uses equipment in the Student Multimedia Design Center (SMDC) to scan his 35mm film photography, and a gamer, who you'll find playing Animal Crossing: New Horizons or on Zoom playing online games with friends. Oh, and did we mention during this time of social distancing, he has started embroidering custom clothing and has challenged himself to sketch every day?
On top of all this, he's also a senior student assistant at the SMDC. There, Showvik found it particularly rewarding to help students who come to the service desk for assistance with their projects. In his role, he also helped train new student assistants—and he's proud to say many of those trainees have become some of his best friends.
When he graduates this month, he'll bring with him a wide skill set and even wider support system with him as he begins his next chapter as an engineer at Boeing.
Alexia Stock
At any given moment, Alexia Stock has a lot going on. Even now, as she works to finish her final projects, Alexia is maintaining partnerships around the world as president of Engineers Without Borders, UD's student-led chapter of a larger organization that connects communities in need of basic infrastructure. Alexia also recently defended her thesis on independent research she did with the Civil Engineering Department that she plans to publish as a journal article.
When on campus, she found working as a student assistant in Morris Library allowed her to decompress with calm and quiet work. There, she reshelved and organized books, ensuring others could easily find the books they need. The process also allowed her to discover books of interest, including one with a photograph of the Hagia Sophia, a church in Istanbul that is a particularly impressive feat of engineering. As a civil engineer, Alexia was in awe. So much so, that she took a vacation to Istanbul to see it herself.
Alexia's interest in other countries and cultures doesn't end there. In fact, in the near future, she plans to pursue her doctorate at the University of Canterbury in New Zealand. There, she will continue a similar research path. Her passion lays in a subset of civil engineering called disaster studies, where she will study ways to apply engineering in a culturally sensitive and appropriate manner that best supports communities in need.
Eileen Flannery
Spending more time outside may be new for some of us, but not for Eileen Flannery. Eileen, a wildlife ecology and conservation major, loves the outdoors. During this time of social distancing, she's even found new ways to embrace the great wide open by running around her neighborhood as part of the Couch to 5K program. (She's been baking bread and watching cat videos, too!)
While her jobs on campus—a student assistant with Interlibrary Loan and a bartender with UD Catering—kept her indoors, they taught her valuable skills about working in busy, ever-changing environments.
These skills will prove useful as Eileen pursues her passion to create a better future for wildlife and their habitats. After graduating this month, she plans to work as a field technician, gathering field data for wildlife research. Eileen may want to pursue a graduate degree after a few years of working, but for now, she's looking forward to getting her hands dirty with wildlife conservation work. And, frankly, she's looking forward to little things, too, like celebrating birthdays with friends again!
Kenna Gilley
Kenna Gilley has mastered the art of balance. During the stay-at-home orders, she has stayed calm through both the intensity of exercise and the tranquility of baking. During a normal semester, she finds success in working jobs with loud, fast-paced environments, such as Grotto's Pizza and the YMCA, as well as those in quiet, peaceful atmospheres, like the Education Resource Center (ERC) and a UD research lab.
As a student assistant at the ERC, she is able to decompress as she reshelves books and helps others find the materials they need. While she isn't an education major, she's the first to tell you the ERC is for everyone, having been saved by its resources—think laptops, iPads and calculators—on several occasions. But the best part of working in the ERC, she is quick to say, is the people. She loves fostering relationships with staff, fellow student assistants and ERC regulars.
Her desire to connect with and support others spills over into her career goals to work with individuals in need of orthotics and prosthetics. After receiving her bachelor's degree in exercise science, Kenna will continue her work as a research assistant in the research lab at UD for the next year before pursuing a master's degree.
Natalie Walton
Natalie Walton was named a 2019 Truman Scholar, an award given to those who exemplify the next generation of public service leaders—and it's easy to see why. In addition to earning her bachelor's degrees in sociology and criminal justice, Natalie is currently a volunteer victim advocate with UD's Sexual Offense Support (S.O.S.) and founded It's On Us, the student-run UD branch of the national organization to support survivors and educate the community about sexual assault. Amidst all this, she also works at the UD Writing Center, volunteers with Planned Parenthood and is a student assistant in Special Collections.
While Natalie doesn't have a background in museums or art preservation, she has found her time in Special Collections to be particularly rewarding, knowing that she's helping to preserve books and art for future use. Between extensive research for her senior thesis and friendships with student assistants she affectionately refers to as fellow "dorky researchers and aspiring academics," she has found a home in Morris Library.
With plans to attend graduate school in 2021, Natalie's long-term goal is to continue doing social science research. In the meantime, she's looking forward to doing promotional work for her debut novel, Revenge of the Sluts, a young-adult mystery to be published in February 2021, and writing her second book.
Gabby Benton
Gabby Benton is committed to helping others. Whatever she does, she finds a way to pay it forward. In her free time, she coaches varsity cheerleading at a local high school. As a student assistant who works service desks in Morris Library and the Physics Library, she helps the UD community find the different resources they need.
And, when she graduates this month with her bachelor's degree in elementary education with a concentration in special education, she will continue on her path to be a teacher, a role that will positively impact countless lives. As a member of the campus organization Association of Professional Leaders in Education (APPLE), she has surrounded herself with a strong network of future teachers to lean on and exchange ideas with, just as she has surrounded herself with a group of friends and supporters from the Library to root her on in her journey.
At some point, Gabby plans to return to school for her master's degree, but for now, she's looking forward to securing a teaching position in lower Delaware.
Jennifer Ptak
You've probably seen Jennifer Ptak around Morris Library. As a student assistant at the Library, a peer tutor in the Writing Center, and a double major in English and history who has to write a lot of research papers, she was in the library every single day. Just ask her friend Ida, the security guard who works the Welcome Desk.
It probably won't surprise you, then, to hear that her time at the library has played a pretty big role in her life. She and her fellow student assistants in Special Collections have become lifelong friends—and travel companions. Jennifer and Natalie Walton, featured above, roomed together on their study abroad session in Italy. And even during this time of social distancing, Jennifer stays connected with all of her fellow student assistants through their group Snapchat and by hosting biweekly Zoom meetings for the crew to catch up.
Her long-term goal is to be an archivist, a dream inspired by her time working in Special Collections, where her responsibilities all worked toward the goal of ensuring information and materials are easily accessible when researchers need them. While she's the first to acknowledge the career path will take time—and a few additional degrees—to achieve, Jennifer is charting her course forward.
Lauren Lee
Lauren Lee gravitates toward beautiful and tranquil spaces. While social distancing at home, Lauren has sought peaceful environments to reconnect with nature through activities like birdwatching and running outdoors. She has also created her own such environments, including a personal oasis in her bedroom, complete with 20 different plants. On campus, she found that same sort of peace in Mechanical Hall Gallery, where she has worked the past two years as a gallery attendant.
An art history and anthropology major with research interests in Latin American art, Lauren found a second home in the gallery. There, she made new friends, used pieces from the collection to do research, and helped others enjoy and engage with the artwork on view. Through her interactions with visitors—including one woman with a close relationship to a student of Frida Kahlo—she's also been able to learn from their experiences with art.
Upon graduating, Lauren will spend her summer on the water, another place of tranquility since she first learned to sail at age 11. As co-director of the Lewes Yacht Club sailing program, a program she's worked with for four years, she will continue to teach young people about the sport she loves. After that, she plans to redirect her career into environmental work.
Kaitlyn Gretencord
By the 115th day of the year, Kaitlyn Gretencord had already seen 125 movies. A self-professed film snob, she is particularly well versed in older films from the 1930s through the 1980s. She has even created an Instagram account to post reviews of movies during this time of social distancing. We'll give you one guess where she works.
Kaitlyn has worked as a student assistant in Film and Video her entire college career, providing her with a community of people who love movies as much as she does. For her, the highlight of any shift is engaging with others about film, whether she's chatting with someone who just checked out one of her favorite movies or recommending alternate viewing to someone who wanted a DVD that had already been checked out.
With Kaitlyn's expertise in film, it's organic that she would want a career in something creative. Ultimately, she wants to publish her own stories and be a professor. Right now, she's looking into copywriting and editing jobs before attending a graduate program in a few years, when she plans to study creative writing and how to teach it to others.
Aditya Shukla
Aditya Shukla loves to stay busy. In addition to working in the Student Multimedia Design Center (SMDC), the neuroscience major plays intramural soccer and basketball, conducts research on campus, has his own clothing line, is a freelance photographer, and has his sights set on law school. The pandemic hasn't slowed him down either. He's spent this time jumping back into coding, learning how to draw, rereading the Harry Potter series and working out daily to de-stress.
What's his secret? Aditya enjoys it all so much that none of it feels like work. At the SMDC, his excitement for multimedia and photography took center stage. There, he found it especially rewarding to help students determine what equipment would work best for their specific projects, and to introduce those with no knowledge of multimedia to one of his many passions.
After graduation, Aditya plans to keep learning, engaging with and being excited about new things. While law school is in his future, he anticipates his versatility will lead him down an entrepreneurial path and onto countless more adventures.