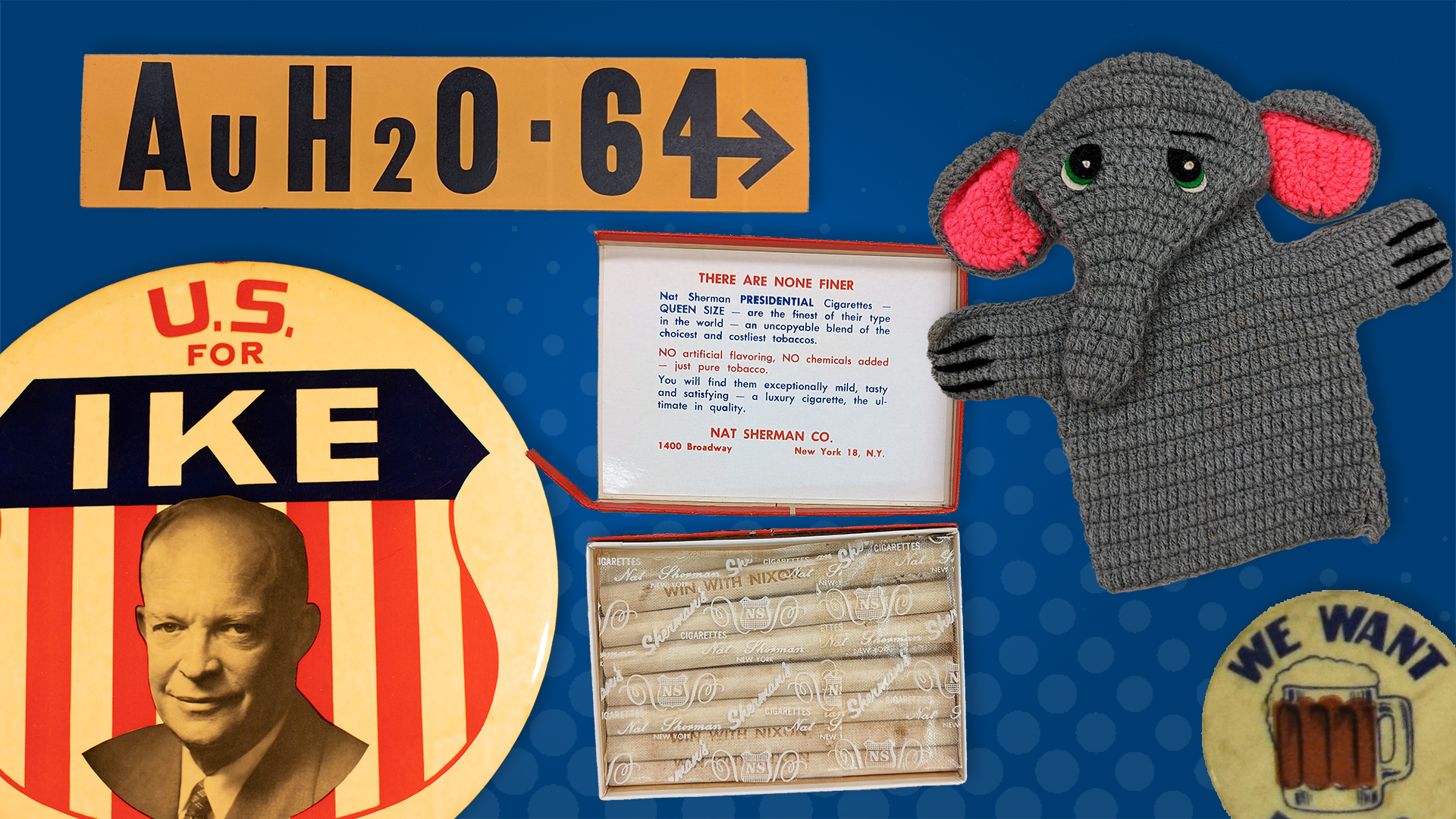 aebner
September 23, 2020
10 Memorable Political Campaign Items from Delaware and U.S. History
Article by Sadie Ellington
When I started as a graduate assistant with Special Collections, I had no idea what to expect. I was excited, nervous and eager to learn. Little did I know how rewarding, fascinating and enriching this experience would be—and just how much it would change the way that I research.
I always felt welcome to explore new intellectual avenues and to ask questions (which I did a lot, especially in the beginning!), for which I am so grateful to John Caldwell, coordinator of political papers and electronic records, for entertaining every question I voiced. During my time in Special Collections, I grappled with physical versus intellectual arrangement, formatting finding aids, and probably a billion questions about different items and archival norms. No project typified this more than the Jerome O. Herlihy Political Campaign Ephemera Collection.
Delaware native and retired Delaware Superior Court Judge Jerome O. Herlihy maintained an active connection to national and local politics throughout his life, and generously donated his collection to the University of Delaware. Spanning from 1876 to 2018, the collection highlights national, federal and Delaware state and local political campaigns and elections. It encompasses approximately 2,500 items—1,500 campaign buttons and pins, 400 unique bumper stickers, 375 political artifacts, paper ephemera, posters and signs, and AV material—many of which require special housing for long-term care.
Due to its scope and size, working on the Herlihy collection initially seemed overwhelming, but proved to be an incredibly rewarding challenge. To showcase some of this extensive collection, here are my top 10 favorite items:
10. "Big Nixon"
This poster for the re-election of Richard Nixon is larger than your average dining room table. Incredibly well preserved, our Big Nixon poster laid out to "relax" for several months before getting ready to move into a map case for its permanent housing. While the collection contains a lot of Nixon memorabilia, this was unique for its sheer size and excellent condition.
9. "We Want Beer" campaign button
This button calls for the end to Prohibition, and is one of only several issue-based (i.e., not candidate-centric) buttons in this collection. I love this pin because its simple message and graphic remind me that straightforward messaging sticks with the public.
8. Framed holographic photo of Dwight D. Eisenhower and Richard Nixon
This is one of the most memorable items in the collection. I had never seen a framed holographic photo before, and it is difficult to forget those two watching over me as I worked through the collection.
7. Elephant hand puppet
One of the most fun items in this collection is the grey elephant-shaped hand puppet, knitted in honor of the Republican Party. When sorting through the original boxes, this hand puppet definitely cheered up the entire room, making several walk-throughs of the staff offices and bringing smiles to everyone's faces.
6. The Dwight D. Eisenhower button
This campaign button is nearly a foot in diameter, and would have had to be displayed or worn around someone's neck. This memorable piece is the largest campaign button in the collection, and is in great condition.
5. "AuH2O 64" Barry Goldwater bumper sticker from 1964

This bumper sticker is my favorite from the collection. Its colors are bright and eye-catching, and you cannot beat the creativity of Barry Goldwater's slogan ("Au" is the chemical symbol for gold, and "H2O" for water). Its sister bumper stickers feature foreign languages and slogans in the same bright colors. They are a truly unique set.
4. The tobacco paraphernalia
The collection contains multiple packs of cigarettes with candidates' faces on the boxes, a cigar, a butane lighter, ashtrays, and many matchbooks promoting different candidates. These are some of the most interesting items in the collection—it is not every day that you see Dwight D. Eisenhower on a pack of cigarettes.
3. The JFK coloring book
This coloring book for John F. Kennedy is written and illustrated from the perspective of his daughter, Caroline Kennedy. I have never seen anything quite like this, and it is in pristine condition. The coloring book reminds me how creative and almost whimsical political ephemera can be.
2. Photograph of Thomas J. Herlihy Jr. and others
This photograph has personal ties to our donor and historical Delaware politics. It shows Thomas J. Herlihy Jr. (Jerome O. Herlihy's father) and other members of the Delaware Republican Party en route to the 1936 Republican National Convention in Cleveland, Ohio. They are standing in front of a train at the Wilmington, Delaware, Amtrak station. Thomas J. Herlihy Jr. is third from the right in the front row.
1. Jerome O. Herlihy
My absolute favorite part of this collection was working with our lovely donor, Jerome O. Herlihy. I was lucky enough to help interview him about his time in politics, his family's involvement in Delaware, and the beginnings of his collection during his visits to the University. Mr. Herlihy is incredibly kind and open about his life in politics, and it was a pleasure to meet him. This photo shows Mr. Herlihy at the 1960 Republican National Convention.
To explore more political campaign ephemera from our collection, check out our online exhibition Trail to the Voting Booth: An Exploration of Political Ephemera.
—
Sadie Ellington is a Ph.D. student in the Department of Political Science and International Relations at the University of Delaware. In 2019-2020, Ellington was a graduate student assistant in Special Collections, where she worked on the Jerome O. Herlihy Political Campaign Ephemera Collection. She won the 2019 Mid-Atlantic Regional Archives Conference Frederic M. Miller Finding Aid Award for her work in researching and identifying the candidates represented in the collection, and finding a clear, accurate and concise way to describe the items.