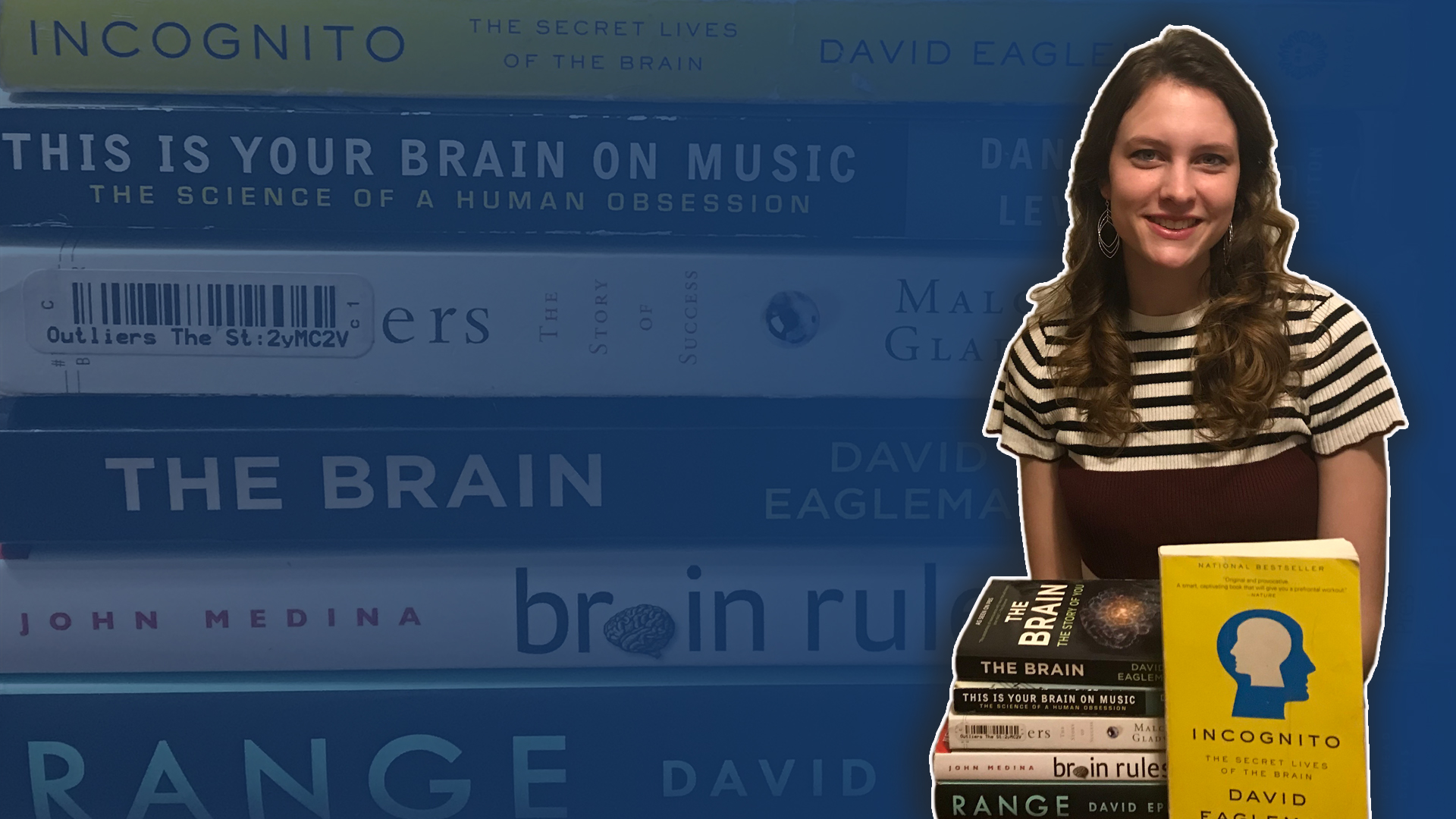 The Brains Behind the Collection
Article by Allison Ebner | Photos courtesy of Lucia O'Neill
This is the second in a series of articles highlighting the winners of the second annual Seth Trotter Book Collecting Contest, hosted by the Friends of the University of Delaware Library. UD students can submit their applications for this year's contest by June 1, 2021.
Every book tells a story, and those stories can help us understand our own.
Six years ago, Lucia O'Neill, now a sophomore in the Honors College, felt overcome by someone else's thoughts. "Thoughts flashed around my mind, fierce and untamed," Lucia said. "But they did not feel like my thoughts. They felt foreign, nagging me to fixate…"
It was that night when Lucia first learned she may have inherited obsessive compulsive disorder, and when a new determination awoke within her to understand everything about the brain.
Not long after that evening, she found herself in the psychology section of Barnes and Noble, where a book with a bright yellow cover called out to her. Positioning the mind as a civil war, Incognito: The Secret Lives of the Brain by David Eagleman resonated deeply with Lucia from its very first chapter, titled "There's Someone in My Head, but It's Not Me."
The thought-provoking book delved into the brain with the depth and exactness Lucia sought. With this new knowledge, she had new questions. In her quest to keep learning, her collection was born.
Her growing collection of books on the brain and behavior wasn't just filled with titles that sat on her shelves. She read each book, ready and willing to apply what she learned to her own life in order to best understand the human brain.
From The Power of Habit: Why We Do What We Do in Life and Business by Charles Duhigg, Lucia came to understand why habits are important by understanding her own. She could see the three parts of a habit delineated by Duhigg—cue, routine and reward—in her experiences dancing ballet and playing the piano. She could also see habit's role in her mental health.
"As someone who had evidently struggled with compulsive circular thinking, I began to recognize that a habit had taken hold of me, triggered by unsettling intrusive thoughts; alleviated by orderly, systematic thinking; and rewarded by the feeling I was defeating the invasion," Lucia explained.
With Malcolm Gladwell's Outliers, she reflected on his 10,000-hour rule—the idea that anyone can become an expert with 10,000 hours of practice—and how it requires the implementation of habits, self-control, and arbitrary circumstances. While skeptical of Gladwell's conclusions, Lucia could still consider how particular incidents shaped her life.
If she hadn't had two reparative hip surgeries as a result of years of dance—surgeries that left her unable to dance for months—she wouldn't have joined her high school's musical and met one of her role models. If it weren't for her OCD, she may never have begun to write music as a means of catharsis. "I used to loathe practicing, but when my mind seemed to erupt in 2015, I sat down [at the piano] and started playing for myself," Lucia said.
As her knowledge and collection expanded, so did her interests. With a broader understanding of the brain, Lucia, who is majoring in cognitive science and music, naturally shifted to topics that spoke to the brain and creativity. "A possible link between my blazing brain and my fervor for music kindled a new kind of curiosity in me: How did creativity work in the brain?"
In search of these answers, Lucia turned to books such as Musicophilia by Oliver Sacks and This Is Your Brain on Music by Daniel Levitin, which combine science, music and, at times, philosophy.
Through reading these books, she gained a better understanding of her initial question while exploring tactics that helped her grow as a musician.
After reading Musicophilia, which Lucia described as "arguably the most captivating book on music ever written," her interest was piqued by questions around when the brain is most suited for artistic experiences and whether creativity is more abundant in a physically tired brain. With This Is Your Brain on Music, she delved into topics like the role of genetics and environment in musical ability alongside the idea that, regardless of talent, those who practice most are better.
Her desire to learn about the brain goes beyond her own personal interests, though. "I want to understand the human person," Lucia said. "When you can recognize [behavioral] patterns in yourself, then you can start to recognize the patterns in other people."
This prevailing interest is the inspiration for the next likely expansion of Lucia's collection: the decisions and behaviors of leaders throughout history.
"In the future, I see my collection going toward history, in a sense," she explained. "I want to now connect my interest in the brain and behavior to understand leaders in the past, decisions in the past, and why things came to be. Then, hopefully, get a better understanding of where things are now."
While her knowledge about the brain and behavior is more comprehensive than the average person's, talking to others about what she's learned and applied to her own life has proven to be the most rewarding part of her collecting journey.
"A lot of people that I've spoken to who have not studied the brain still find the information very interesting," Lucia said. "Human functions and tendencies, I think they are pretty universal interests."
These interests remain at the core of her collection, while her growing knowledge and expanding interests shape its evolution. It's a collection she sees as infinite, filled with unending possibilities to learn more about the brain, its power and its implications.
"I do not expect to ever know it all, but I want to explore and understand as much as possible," Lucia admitted. "There is a universe to uncover, and I have only just begun my inquiry."
Seth Trotter Book Collecting Contest
Lucia O'Neill is one of three winners of the Friends of the University of Delaware Library's 2020 Seth Trotter Book Collecting Contest. The other winners are Edward Benner and Eileen Symons. The Friends created the contest to encourage reading and research, the creation of personal libraries, and an appreciation of printed or illustrated works for pleasure and scholarship among UD undergraduate and graduate students. Students can learn more about the 2021 Seth Trotter Book Collecting Contest, including how to submit their applications, here.