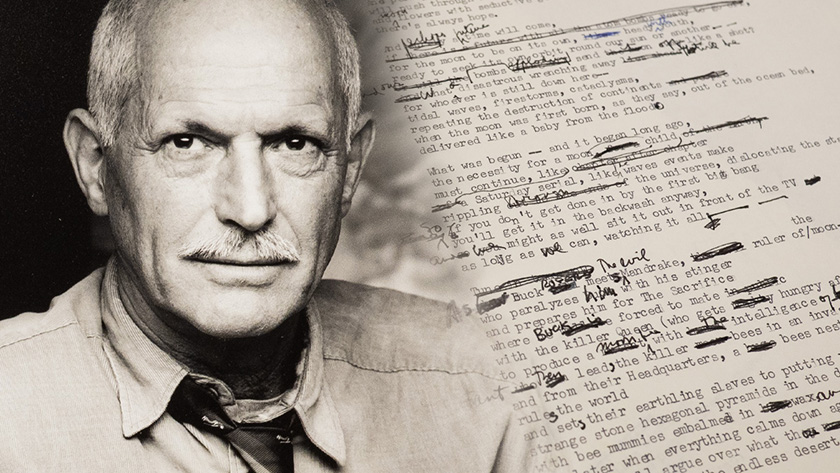 Collection Spotlight: The Edward Field Papers
Edward Field is a literary giant in the poetry and LGBTQ+ communities, but his entry into the world of poetry may surprise you. He first began to write poems while serving in the U.S. Air Force during World War II after a Red Cross worker handed him an anthology of poems, inadvertently setting the course for his life.
Field's Stand Up, Friend, With Me was awarded the Lamont Poetry Selection in 1962, an esteemed award from the Academy of American Poets presented for a poet's first published volume of work. This success led to reading tours, a Guggenheim Fellowship and further publications that garnered praise from other literary figures as well as additional awards. Along with writing poetry, Field has edited poetry anthologies, co-wrote fiction with his partner, and wrote narration for a documentary film. Now 97, he continues to write today.
In Special Collections, researchers can delve into the extraordinary life and writing career of this American poet through the Edward Field Papers. Within his papers, you will find personal and professional correspondence, drafts of poems, book reviews, press clippings, personal journals, flyers, photographs, and much more.
You will get an intimate look into Edward's life and craft. Field's journal entries from 1963 through 1993 include intensely personal reflections on his life, his relationships, his travels, his conflicts and his thoughts on human sexuality alongside drafts of essays, articles and poems that directly connect to the emotions he reflects on.
Through the papers, you will also get an in-depth look into the publication process for a contemporary poet. Field's professional correspondence—mailing lists, "send-out" files for poetry submissions, reviews for publications, and more—reflect the efforts he underwent to publish his work and edit anthologies. The press clippings also speak to the culture of the time, and include coverage from a variety of LGBTQ+ outlets.
The papers illuminate how important it is to Field to champion other poets as well. Correspondence with many of the Long Beach Poets, a movement Field helped begin, highlights how essential his support was to their success. Letters to and from other writers and poets, including William Carlos Williams, Langston Hughes and Allen Ginsberg, express congratulations and admiration, while other correspondence from Field provides encouragement and letters of reference for younger poets. You'll also find drafts and correspondence between poets and Field as he edited anthologies to highlight other voices, as well as an entire archive of materials that speaks to his efforts to revive poet and friend Alfred Chester's literary reputation.
Spanning from 1943 through 1994, the materials in the Edward Field Papers can provide you with a unique look into the poet's life, career and friendships. Researchers have used them for their work related to poetry, literary periods of the 1960s and 1970s, American sexuality, and more.
For more information, browse the Edward Field Papers Finding Aid. To see the collection in person, please make an appointment with Special Collections.