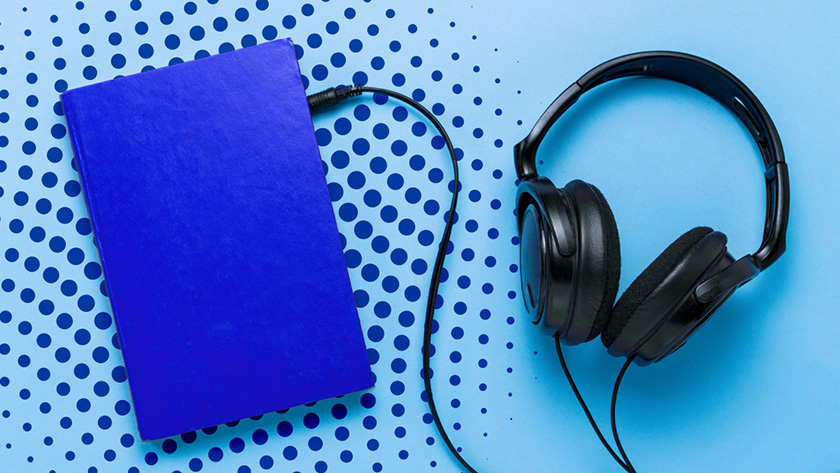 15 Immersive Audiobooks for On-the-Go Entertainment
Summer reading is a seasonal staple. Whether you're road tripping, sitting poolside or just walking around the neighborhood, an audiobook makes for great company and entertainment on the laziest and craziest days of summer.
The books below range from darkly comical to feel-good to heavy and heartbreaking, but all of them promise to immerse you with engaging storytelling and expert narration. The UD community can browse the list for titles to borrow for on-the-go listening and explore other audiobooks available in our OverDrive collection.
Thrillers | Romances | Historical Fiction | Memoirs | Short Stories, Essays and Poetry
Thrillers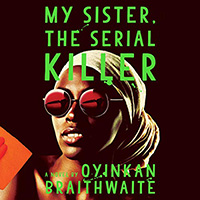 My Sister, the Serial Killer by Oyinkan Braithwaite
By day, Korede is a nurse. By night, she's cleaning up after her little sister Ayoola, who has a bad habit of killing her boyfriends. Everything is fine until Ayoola starts dating a doctor Korede has long been in love with, leaving Korede concerned that saving one might mean sacrificing the other. This darkly comical thriller is elevated by Adepero Oduye's narration, which is so effortless and conversational you might forget you're listening to a book and think she's telling you about her own sister.
The Guest List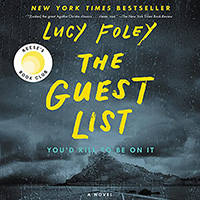 by Lucy Foley
It's safe to say things didn't go as planned when someone turns up dead at a destination wedding on an island off the coast of Ireland. Neither the killer nor the victim is known at the start of the novel, which makes everyone a potential suspect. The ensemble of narrators charged with bringing this cast of characters to life turns the experience into a performance, making it all the more engaging to listen in closely as secrets and possible motives are revealed.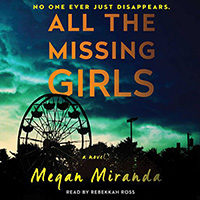 All the Missing Girls by Megan Miranda
Ten years ago, Nic Farrell left her hometown after her best friend disappeared. Mere days after Nic returns, another girl goes missing. Told backwards, from Day 15 to Day 1 after the most recent disappearance, the story follows Nic as she tries to unravel the truth about the disappearances. Narrator Rebekkah Ross builds on the suspense with her nuanced delivery of disparate characters and the unfolding mystery.
Romances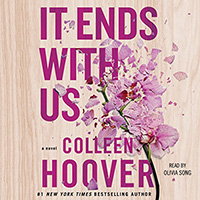 It Ends with Us by Colleen Hoover
Published in 2016, this book has been on the New York Times Best Sellers list the last 56 weeks thanks to the power of #BookTok. The story centers around Lily, a strong heroine with a too-good-to-be-true romance who can't stop thinking about her first love. But be warned: This isn't your average romance. While filled with both hope and heartbreak, it's a heavy read that deals with domestic abuse. Narrator Olivia Song carefully and powerfully embodies Lily's many emotions, making the story all the more poignant.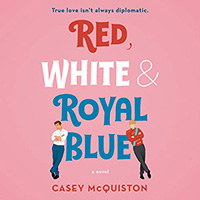 Red, White & Royal Blue by Casey McQuiston
What happens when America's First Son falls in love with the Prince of Wales? You get this charming enemies-to-lovers romance from Casey McQuiston, who is known for feel-good reads and plenty of pop-culture references. With Ramón de Ocampo's narration, it's even easier to get swept up in this love story. Plus, de Ocampo is masterful with the dialogue, bringing the characters to life with nuance and appropriate accents.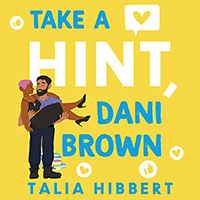 Take a Hint, Dani Brown by Talia Hibbert
Fans of the fake dating trope, this one's for you! When security guard Zafir Ansari rescues Dani Brown from a workplace fire drill gone wrong, the video goes viral and a faux relationship is born. The opposing personalities of Dani and Zafir are deftly brought to life by the engaging narration of Ione Butler, who handles the dry humor of someone who has forsaken love as seamlessly as the swooning of a hopeless romantic.
Historical Fiction
A Woman Is No Man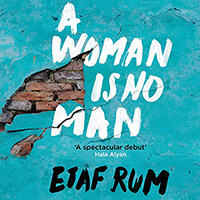 by Etaf Rum
History is repeating itself when 18-year-old Deya starts meeting with suitors for an arranged marriage at the insistence of her grandmother Fareeda. Her mother, Isra, also had no choice in the marriage that brought her from Palestine to Brooklyn. The story of three generations of Palestinian-American women struggling to express their individual desires within the confines of their culture is made all the more powerful by three narrators coming together to provide distinct voices for Deya, Isra and Fareeda.
Harlem Shuffle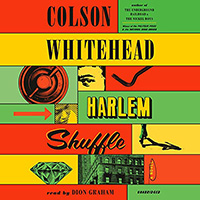 by Colson Whitehead
It's New York City in the early 1960s, and Ray Carney is a salesman at a struggling furniture store whose wife is due with their second child. The problem is he's having a bit of trouble staying on the right side of the law, particularly when a planned heist goes sideways. Narrator Dion Graham's style embodies the time period, and his smooth and effortless voices make it easy to imagine the many colorful characters in this family saga masquerading as a crime novel.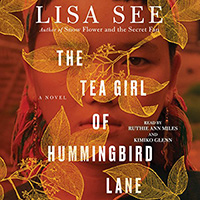 The Tea Girl of Hummingbird Lane by Lisa See
In this novel about tradition, tea farming, and the bonds between mothers and daughters, we meet Li-yan, a woman who begins to reject the customs that shaped her early life, and Haley, the daughter Li-yan gave up for adoption in order to save her life. Both Li-yan and Haley are voiced by different narrators, allowing each character's story to unfold and overlap in organic and powerful ways.
Memoirs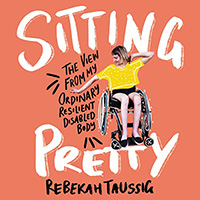 Sitting Pretty: The View from My Ordinary Resilient Disabled Body by Rebekah Taussig
Disability advocate Rebekah Taussig paints a nuanced portrait of what ordinary life is like with "a body that looks and moves differently than most." As Taussig narrates her memoir, the essays are imbued with even more honesty, vulnerability and wit. With her spunky and conversational tone, she welcomes you into her world where you'll be inspired to think creatively about how to make the world more accessible for everyone.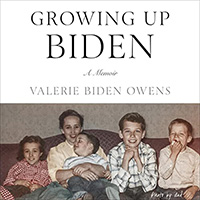 Growing Up Biden by Valerie Biden Owens
UD alumna Valerie Biden Owens narrates her own memoir–both an ode to family and a reflection on her decades-long professional career in politics. In her reading, Biden Owens' warmth and candor is on full display, welcoming us into the Biden home with family stories from growing up in Delaware, and steeling us with inspiration as she reflects on breaking gender barriers and navigating professional responsibilities while raising children.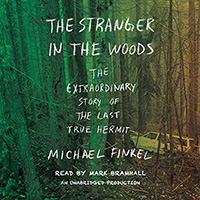 The Stranger in the Woods: The Extraordinary Story of the Last True Hermit by Michael Finkel
In 1986, 20-year-old Christopher Knight left his home in Massachusetts to live alone in the woods of Maine for nearly 30 years. Based on interviews with Knight, this is the story of his survival. Narrator Mark Bramhall mixes a straightforward approach akin to news reporting with an accented voice for Knight that makes it all the easier to picture yourself in that same forest as you contemplate far-reaching questions about solitude, community and what makes a good life.
Short Stories, Essays and Poetry
Someone Who Will Love You in All Your Damaged Glory by Raphael Bob-Waksberg
Dark humor runs throughout this collection of offbeat short stories written by the creator of the TV series BoJack Horseman. The 18 stories focus on love and relationships, cleverly connecting the surreal with the painfully relatable. The collection is narrated by an ensemble of talented actors, including author Raphael Bob-Waksberg, who strike the perfect tone for the wit, whimsy and weirdness of each story.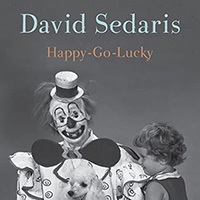 Happy-Go-Lucky by David Sedaris
David Sedaris is a master storyteller, and in narrating his most recent collection of personal essays aloud, he takes his storytelling prowess to the next level. With poignant observations about family, society and life in the midst of the COVID-19 pandemic, these essays are imbued with Sedaris' hallmark humor and reflection, and when read aloud, leap from the page to prompt deeper laughter, frustration and connection.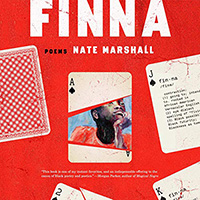 Finna: Poems by Nate Marshall
We engage differently with poetry when we hear it aloud. Nate Marshall dons a variety of voices throughout these sharp, lyrical poems that celebrate the Black vernacular. Through his reading, you'll experience the sounds and rhythms of his words and feelings in a more tangible way as he explores the variations of himself in today's world. It's a moving collection of poetry that is forward-focused, leaving you with a sense of possibility.