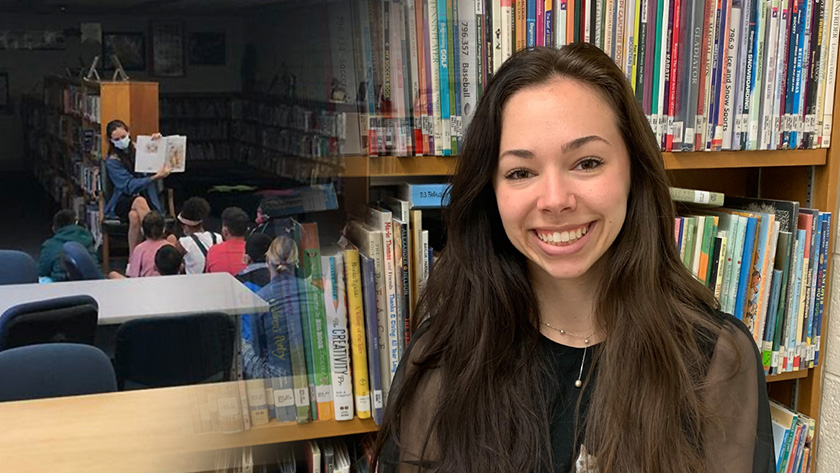 All Roads Lead to Libraries: How a Student Assistant Found Her Career Path
Article by Allison Ebner | Photos courtesy of Alyssa DePaolis
If you're looking for UD alumna Alyssa DePaolis, our advice is to check the local library.
Before graduating from UD in 2019, Alyssa was a mainstay of Morris Library, where she worked as a student assistant in the Stacking Department. Nowadays, Alyssa works as an elementary media technical associate at a public school in Connecticut, where she is more commonly known to her students as Ms. DePaolis, the school librarian. After work, you can find her studying for her master's degree in library and information science at her local public library.
Years ago, if you had told Alyssa she'd be spending almost all her time in libraries, she may not have believed you.
While she grew up going to summer reading programs at her town's public library, Alyssa didn't really know what to expect when she started working at Morris Library. Even when her supervisor Denis Atadan told her that many students who work in the department go on to pursue a career in libraries, she brushed it off and went about her day – not knowing she had just glimpsed her future.
After graduating with a bachelor's degree in international relations, Alyssa took a job in marketing, quickly learning it wasn't the path she wanted to pursue. When she started thinking of other career opportunities, Alyssa realized just how transformational her time at Morris Library had been.
There, she felt relaxed and at home. As a student assistant, she was responsible for reshelving books and making sure that they were in order. The peacefulness that came with returning items to their specific places allowed her to escape the busyness of day-to-day college life. She felt accepted and supported by her colleagues and peers, and when she wasn't working, she would stick around to study, embracing the calm and welcoming environment.
"I just kept thinking, I loved working in a library," Alyssa said. "Is a career like that possible? How can that happen?"
Alyssa found a way to make it happen and now helps to foster that same supportive, welcoming and calming space for growing minds.
Each week, she sees every student from kindergarten through sixth grade at her school. As the only person who works in the school's library, Alyssa does all the collection development, cataloging and processing, shelving, and lesson planning. She is energized by the creativity her lesson plans allow. In addition to more traditional library subjects, she has introduced her students to coding and made space for the challenging conversations facing American society.
"In my experience, libraries strive to provide environments that are safe spaces to articulate interests, concerns or questions; [they are] culturally affirming, physically safe, and a place to further academic pursuits," Alyssa explained. "Libraries provide free services, resources and events that other community organizations cannot. I want to dedicate my career to helping that mission."
While her students refer to her as a librarian now, Alyssa is pursuing her master's degree in library information science at Southern Connecticut State University to officially earn the title and continue her career in the field.
When she began her first graduate courses this summer, she quickly found her experience these past two years has already proven invaluable. "I've noticed I actually do feel pretty prepared, and I'm able to make connections to my work life that I wasn't expecting and that have been beneficial to me already."
The courses in her program will introduce Alyssa to the many, varied paths of a career in librarianship, and she is looking forward to discovering which elements stand out to her and shape her way forward.
For now, she can't imagine leaving her current position, which has brought a plethora of joy, challenges and inspiration these past two years, nor can she picture where she would be without her formative experience as a student assistant in Morris Library.
Alyssa DePaolis is the recipient of the 2022 Student Assistant Scholarship, which is awarded to a current or former Library, Museums and Press student assistant who is pursuing a graduate education in librarianship or an allied profession. The scholarship is entirely funded by contributions from Library staff.