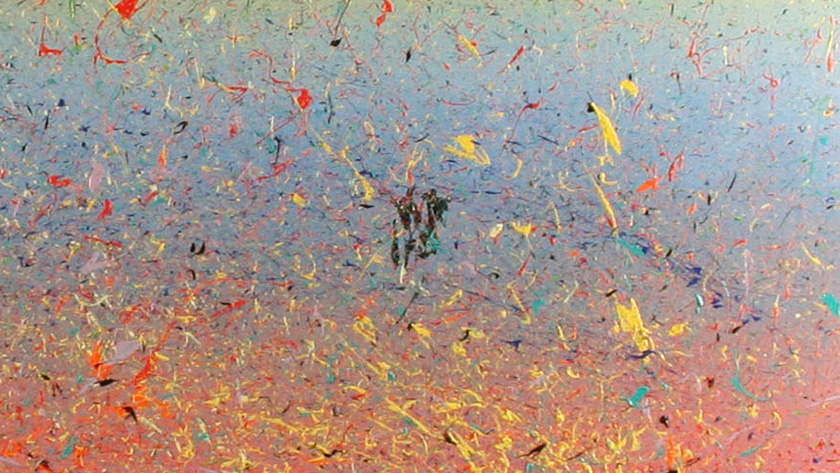 A detail of Adger W. Cowans' abstract painting, Primavera.
A View from the Vault: Adger W. Cowans' Primavera
By Amanda Zehnder, Museums
"A View from the Vault" is a new series that showcases some of the unique, notable or rare items that are a part of the Special Collections and Museums holdings at the University of Delaware. Each month, we will highlight a different work and share interesting facts or intriguing histories about it. If you are interested in seeing any of the materials featured in person or want to learn more about any work showcased in the series, please contact Special Collections and Museums at AskSpec or AskMuseums.
Adger W. Cowans (American, b.1936)
Primavera, 1994-1996
acrylic on canvas
51 x 58 inches
Museums Collections, Gift of Robert & Joanne Mitchell
As the title of Adger W. Cowans' large abstract painting suggests, this month's post is a celebration of May and springtime. "Primavera," a word derived from Latin, means "spring." The vivid-yet-soft yellow, blue, and pinkish-red background hues of the painting along with the energetic splatters of color across its surface evoke the sun, sky, newly emerging flowers and vibrancy of the season.
With 21 works of art (mostly photographs) in the Museums Collections, Cowans is a major figure in our African American Art Collection. He is best known as a prolific and successful photographer. Alongside his photography career, he also has pursued colorful abstract art (as seen here) for decades.
Thumbnail-sized images of copyrighted works are displayed under fair use. As a service to the public and the scholarly community, the Museums may make larger images of copyrighted works available in the online collection catalog. If you wish to use such images for commercial purposes, you must seek permission from the copyright holder.