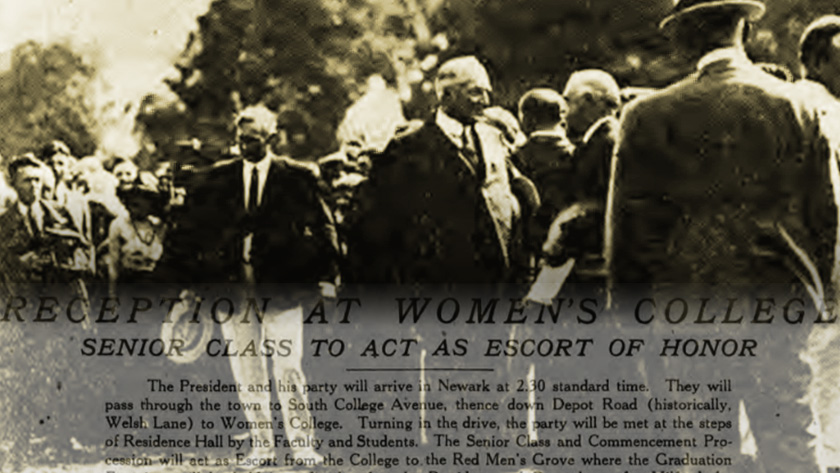 A photograph and headline from the Newark Post's coverage of President Warren G. Harding's visit to the Women's College in 1923.
Commencements of Yesteryear: Insights from Old Issues of the Newark Post
By David Cardillo, Digital Initiatives and Preservation Department
Much like the University of Delaware, Commencement exercises have changed throughout the years.
Using local primary sources, like past issues of the Newark Post and other digital newspapers, which are now digitized and freely accessible, we can gain insight into local events and ceremonies, like Commencement, not found elsewhere.
While still a momentous milestone, it seems that Commencement has not always been the size and scale of what it is today. Looking back 100 years, a large part of this was probably due in part to class size. According to the issue of the Newark Post from June 13, 1923, UD boasted the then-largest graduating class size of… just 57 men.
This issue also included a supplement on the University's Commencement, reflecting on how the ceremonies had changed over time. This section not only included a retrospective on Commencements that came before, but glimpsed the future of campus life with an artist's rendition of what the new Harter and Sharp Hall dormitories would look like when completed.
But what about the graduating women from 100 years ago?
In 1923, the Women's College of Delaware was still a separate entity from the University of Delaware, and therefore had its own graduation exercises. The Class of 1923 was able to boast of a visit from President Warren G. Harding as their graduation ceremony was on the same day as the President's visit to Delaware. As detailed in the issue of the Newark Post from June 6, 1923, President Harding's trip included several stops in Newark, including meeting with faculty and students from the Women's College right before they began their Commencement exercises.
Through these issues of the Newark Post, researchers can also discover more about campus anniversaries and announcements. Within just these two issues, we learn about the successful funding of Memorial Library, which was slated as a "State War Memorial Library" intended to honor those lost in World War I, and we are also introduced to two newly founded organizations that today, in 2023, are celebrating 100 years – the Foreign Study program, today known as the Study Abroad program, and the University of Delaware Press.
Past issues of the Newark Post, from 1910 through today, have been digitized by the Library, Museums and Press, and are freely accessible through UDSpace, our institutional repository. Those interested in primary source material that is local to the history and culture of Newark and the University of Delaware will find these materials particularly useful. The Newark Post is one of many Delaware newspapers digitized by the Library, Museums and Press. Researchers can access past issues of other Delaware newspapers through the Chronicling America database.