Student Employment
Most library student assistant positions are filled during the first three weeks of the Fall semester. Additional hiring is done on an "as needed" basis throughout the year. Students are welcome to turn in employment applications at any time to be kept on file in case a student position becomes available during the year. Application forms should be updated each semester/session to reflect the student's changing class schedule and hours of availability.
Hours vary depending on the needs of each library unit. Work shifts are available seven days a week beginning as early as 8:00 a.m. or ending as late as 12:00 a.m. Examples of Library Student Assistant Jobs vary from unit to unit, including work in the branch libraries and museums.
How to Apply:
To search for and apply for currently available library student assistant positions, visit HandShake.
The HandShake service is administered by UD Career Services Center and requires an account to log-in. Please contact UD Career Services Center at 302-831-2392 if you need assistance setting up a HandShake account.
The HandShake service includes both work-study and non-work-study positions in the Library, Museums and Press as well as across campus.
Check with Student Financial Services to verify the status of your work-study award or eligibility for a future work-study award.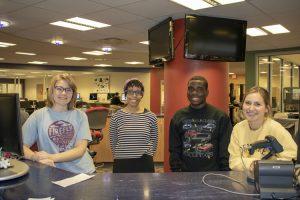 IMPORTANT: Library Student Assistants may not work more than 26 hours per week for ALL University of Delaware employment.
Please direct questions to the following contact:  University of Delaware Library, Museums and Press Human Resources Team: lib-hr@udel.edu
Helpful Links