All Items for Purchase


16GB USB Flash Drive
Easy to use, USB flash drives offer a simple way to save and transport files from one computer to another. Ideal for: portable storage of documents and images, or for transfers from one computer to another.

32GB MicroSD Card with SD Card Adapter
Record or backup your photos, videos, and audio recordings with this fast, class 10 (UHS-1) card. Compatible with micro and full-size SD.

Blu-Ray BD-R Disc
Recordable Blu-Ray R discs offer a higher capacity for storing data, including music or video, than CD-R and DVD-R discs. These discs can be used in conjunction with our portable Blu Ray recorder to create playable Blu Ray discs using software such as Adobe Encore CS6, or Final Cut Pro X.

CD-R Disc
Recordable CD-R discs store data, including music or video. Ideal for: recorded audio projects set up to play on CD players.

DVD+R Disc (Dual Layer)
DVD with two layers of recordable media (dual layer) offers greater storage capacity than single layer DVD discs without requiring use of a Blu Ray player. These discs are a bit less reliable as "playable" DVDs as some players will reject them, but since they hold more data, it is sometimes necessary to use these when your video is longer than an hour.

DVD-R Disc (Single-Layer)
DVD discs offer more storage space than CD-ROM discs and may be used in many computers. Inexpensive and good for storing data when a CD-ROM won't hold all the necessary files. They are also the best choice when making a standard "playable" DVD, meaning a DVD that will play back in DVD and Blu Ray players.


Generic Mini DisplayPort to VGA Adapter
The generic Mini DisplayPort to VGA adapter allows Mac users to display their multimedia projects with VGA-compatible projectors located throughout the UD campus. Ideal for: presentation using VGA-compatable projectors with newer Macintosh computers, including MacBook, MacBook Pro, MacBook Air, iMac, Mac mini, Mac Pro. To ensure compatability, please bring the Mac the adapter is to be used with when purchasing. Defective adapters may be exchanged for a replacement if returned to the Student Multimedia Design Center within 30 days of purchase with a receipt.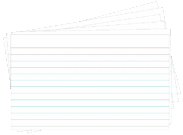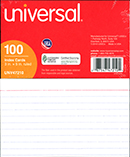 Index Cards (Pack of 100)