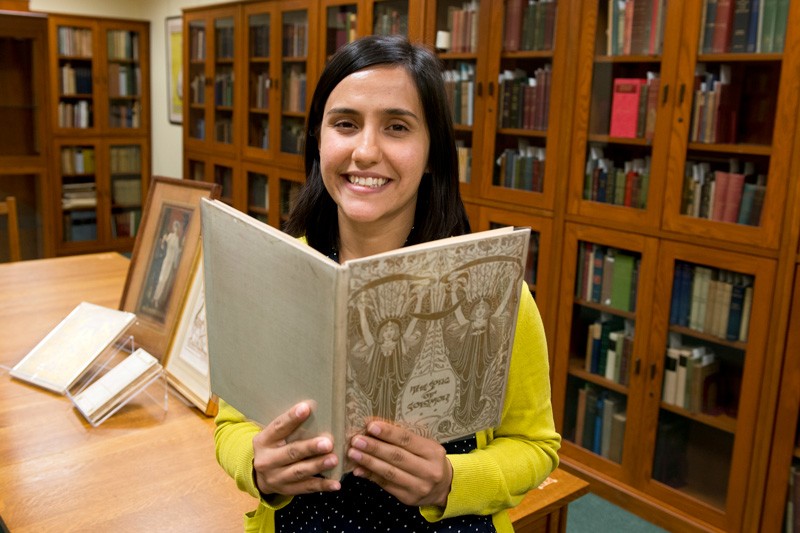 Tara Contractor, a doctoral candidate from Yale University's History of Art Department, holds a book from the University of Delaware's Mark Samuels Lasner Collection. As recipient of this year's Amy P. Goldman Fellowship in Pre-Raphaelite Studies, Contractor has been using the University's collections as well as materials from the Delaware Art Museum for research during her fellowship residency.
Fellow Uses UD's Collections for Dissertation Research
Article by Allison Ebner | Photos by Lane McLaughlin
Fellow uses UD's collections for dissertation research
Coffee table and fine art books make art accessible, but viewing art in person is an entirely different experience. Ask Tara Contractor, a doctoral candidate from Yale University's History of Art Department. She was inspired to research the way gold is used in Victorian art after noticing that photographs of Pre-Raphaelite paintings rarely captured gilt surfaces, and that art historians rarely mentioned the material.
That research has led Contractor to Delaware. As recipient of this year's Amy P. Goldman Fellowship in Pre-Raphaelite Studies, she is spending the month of June examining the collections of the University of Delaware Library, Museums and Press and the Delaware Art Museum in support of her dissertation, "British Gilt: Gold in Painting 1790-1914."
Her dissertation focuses on 19th-century painters, particularly Pre-Raphaelite and aesthetic movement painters, and their use of gold leaf and pigments in artwork. Around the same time artists began incorporating gold into their paintings—a technique previously considered unsophisticated—gold as currency was becoming a historically charged material. "Gold made people nervous at that time," Contractor said. "So, I'm thinking about what it means to paint with it."
While in Delaware, Contractor is focusing on artwork from painter Edward Burne-Jones, who played with gold and frames to explore the boundaries between art and craft.
At the Delaware Art Museum, Contractor is working closely with several of Burne-Jones' 3D panels, which she described as a mix between sculpture and painting. These little-known panels from the 1870s and 1880s are crucial to her dissertation.
On campus, the Mark Samuels Lasner Collection in the Library is also home to Burne-Jones' art that yields fascinating insight into Contractor's research. Burne-Jones' watercolor painting Virgil and the Muse of Poetry, which incorporates gold, is nestled in a frame that he created to go along with the painting. "Burne-Jones is so intentional about the way he plays with the gold in the painting and in the frame," Contractor explained of the watercolor. "It speaks really well to the ways he is thinking of his painting as an object in a frame and not just an image floating in the world."
But her research here doesn't end with Burne-Jones. Similar to the way people discover more by viewing art in person, Contractor has discovered aspects she didn't consider in her original scope of research as a result of working on site with materials from Special Collections and the Mark Samuels Lasner Collection.
For instance, she has taken a close eye to fine bindings from the aesthetic movement. She explained, in one case, the way designer Charles Ricketts used gold on the cover of the book Hero and Leander to make it look like an inlaid, ivory box—not just something you read, but an object you could display in your house. This particular use of gold highlights the material quality of the object, in a similar vein as Burne-Jones' work draws attention to the craft of an artwork.
"I hadn't really planned on looking at fine bindings before I came in here and we started pulling all of these off the shelves," Contractor said. "But I actually think it is something that is in dialogue with the trends in painting at the time, so it's been intriguing to look at these."
Contractor, who is working toward a career as a museum curator, understands the importance of experiencing art firsthand. "I love getting to work with the objects directly," she said. "That's a fun part of being here and at the Delaware Art Museum—to pull all of the things out, look at the books, look at their beautiful illustrations. That's been really, really wonderful."
Contractor will continue diving into the strong Pre-Raphaelite collections of the Library and the Delaware Art Museum through the end of June. On June 27, Contractor will host a talk on her research, entitled "Edward Burne-Jones and the Gold-Wallower: Reconsidering the Gesso Panels," at 12:30 p.m. in Morris Library. Those interested in attending are encouraged to RSVP.
The fellowship—jointly offered by the UD Library, Museums and Press and the Delaware Art Museum—is funded by the Amy P. Goldman Foundation. Scholars conducting significant research on the lives and works of Pre-Raphaelites and their friends, associates and followers are encouraged to apply.