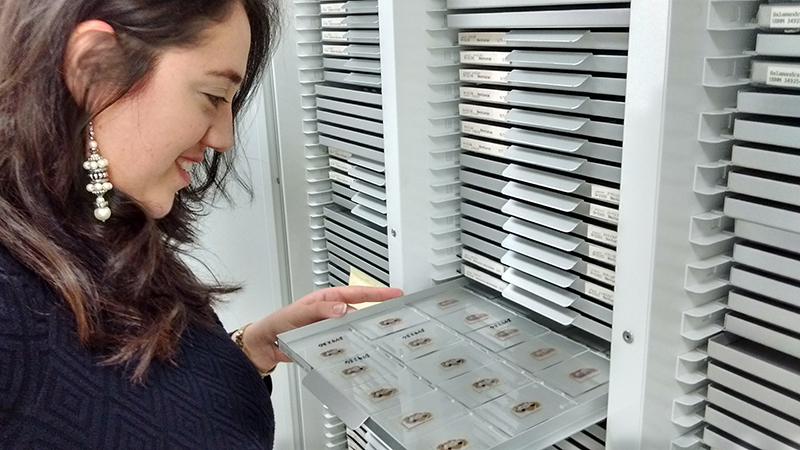 Mariana Di Giacomo examines a tray of microscope slides.
Article by Allison Ebner | Photos courtesy of Mariana Di Giacomo
A paleontologist walks into Morris Library and asks, "What's the limit on how many books I can check out at a time?"
What may sound like the start of a joke is actually a key moment in the tale of one Blue Hen's success.
Meet Mariana Di Giacomo, a paleontologist who earned her doctorate from the University of Delaware in May 2019. On that fateful first visit to the library, a librarian informed her there was no limit and Mariana's eyes lit up with excitement and possibility.
As an undergraduate and graduate student in her home country of Uruguay, her library had fewer resources and a limit on the number that could be taken out at the same time. Though in Uruguay, there were plenty of fossils for the paleontologist to work on.
There, she worked at an excavation site where she helped collect waterlogged fossils in a variety of states. "I started doing some research on my own on how to preserve those bones and realized that I couldn't do it by myself, that I needed some extra training," Mariana explained.
Enter the Department of Art Conservation's Preservation Studies doctoral program. As part of this interdisciplinary program, which allowed her to do research at Winterthur Museum, Garden and Library as well as the Smithsonian National Museum of Natural History, Mariana often frequently found herself inside Morris Library.
You would typically find her in one of two places: the stacks on the second floor or the Graduate Student Research Room.
On the second floor, you'll find books on the history of fossils and paleontology—what Mariana jokingly refers to as "my shelf." "I would go and start browsing the shelves, not just searching the catalog and databases," Mariana explained. "Sometimes you don't know what you're looking for until you see it there on the shelf."
As she worked on her dissertation, she would have half the books on a given shelf checked out at any given time. It got to the point where her husband knew exactly where and why to find her when she called for a ride—she had too many books to carry.
With a bevy of resources close by, the Graduate Student Research Room on the first floor—exclusively accessible to graduate students—quickly became Mariana's go-to spot for writing. "It was very quiet, so I could focus and write," Mariana described. "Whether you need to do a presentation, prepare for a class you need to teach or submit a paper, we're all there doing the same thing. You feel that camaraderie."
The space also strengthened the sense of solidarity with fellow candidates in her program. The small doctoral program has no office or common room for classmates to connect or collaborate, so the room served as this makeshift common area for Mariana and, specifically, one of her classmates. "A lot of the times I knew if I was going to be there, she was going to be there," she said. "So we would share a table and sometimes [get coffee] together. It was really nice."
As a fellow at the Smithsonian National Museum of Natural History for three years, Mariana honed her research skills—gaining insight on everything from microscope slides to adhesives used on barcodes for various specimens. When in need of answers, she always knew where she could turn to.
"There were very few cases where UD did not have access to what I was interested in," Mariana said. "If I needed something, I went online and checked if the paper was part of papers I could download—and it was always the case."
In the instances when a resource wasn't within the Library's collection, she immediately turned to the Interlibrary Loan (ILL) service, knowing the Library would find it at another institution for her. In fact, ILL made it possible to have a true full-circle moment: receiving a book written by the founder of the first library in Uruguay. Edited into a book, the book was a diary of the man's travels through Uruguay, including important history snippets Mariana wanted to read. "It was amazing," Mariana noted. "Having all of those resources just a few clicks or steps away was just amazing. I'm so thankful."
As a frequent and loyal Library user, it was natural for her to promote the breadth of the Library's resources available to the students in the undergraduate classes she instructed. Many of her students had to do research on objects—her first piece of advice for them: check the library.
Particularly with her freshman and sophomore students, she would set aside time to research during class and walk them through a visit to the Library website. "I would sit next to them and have them search," she explained, laughing as she remembered encouraging them to go straight to the library after class to get the physical book.
As the first and only paleontologist in UD's Department of Art Conservation, it was a challenge to go into a program centered around art and material culture when she came from the science world. Between her hands-on museum experience at Winterthur and the Smithsonian, the undergraduate courses she taught, her fellow classmates, and the research she conducted, Mariana finished with a wider span of knowledge than she could have ever expected.
And the Library was the daily backdrop of her time here at UD, a home away from home.
Currently back in Uruguay, Mariana has spent her summer (Uruguayan winter) volunteering at the collection where she used to work, now able to take proper care of the fossils that prompted her journey. She has also visited other museums offering her assistance. With her doctoral degree and experience, she aims to be a liaison that can help the paleontologists of Uruguay improve the way they handle certain situations and circumstances of a given fossil.
This sense of giving back and pushing forward drives Mariana's passion.
In the same vein, it is what makes her one of the Library's most ardent supporters. Just as she wants to advocate for proper care of the fossils she fell in love with, she wants to share with others the resources she had as a Blue Hen.