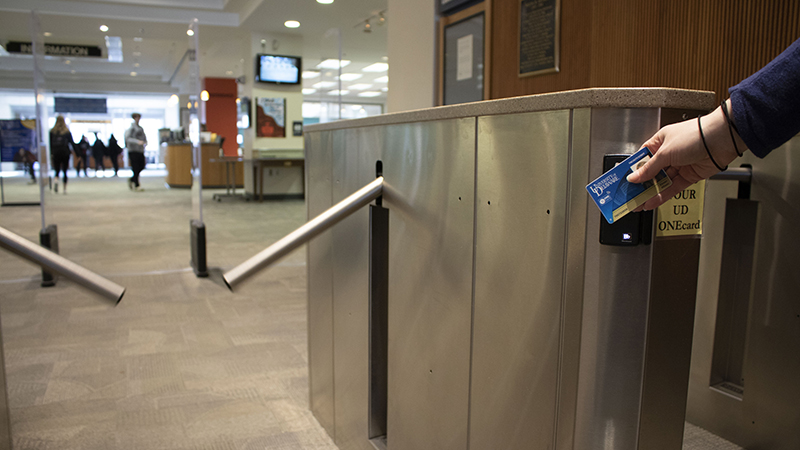 Morris Library Open During Fall Semester
Library opens Sept. 1 with easy pickup service and seat reservations
Update: Materials requested through the Library Pickup Service can now be picked up whenever Morris Library is open.
The University of Delaware's Morris Library will reopen on Tuesday, Sept. 1, with changes to help promote health and safety during the coronavirus (COVID-19) pandemic. The changes include required seat reservations, an easy-access pickup service for physical materials, and new hours. Only those individuals with UD ONEcards on their person will be permitted to enter Morris Library. UD students, faculty and staff are the only ones permitted to study in the building.
To study in the Library, individuals will need to reserve a seat online before arrival. The number of available seats will be limited to support physical distancing. There will be access to some computers, but printers and photocopiers will not be available.
During the fall semester, the book stacks will be inaccessible. All requests for physical materials must be made in advance through the Library Pickup Service. After requesting books, DVDs or multimedia equipment online, users will be able to pick up their requested materials directly from the Circulation and Reserve desk, located just past the turnstiles, from 1-5 p.m., Monday through Friday.
Individuals may access Special Collections by appointment. They should submit their desired appointment date and a list of materials they want to view at least three days in advance through the Ask the Library service. Old College Gallery, Mechanical Hall Gallery, the Mineralogical Museum in Penny Hall, and the Special Collections Gallery in Morris Library will remain closed for the semester.
Morris Library will be open Monday through Thursday, 8 a.m. to 9 p.m.; Friday, 8 a.m. to 5 p.m.; and Saturday and Sunday, noon to 5 p.m. Cloth face coverings must be worn at all times while in the building. If you plan to visit the Library, please follow the guidelines for returning to campus, including physical distancing and daily health screenings.
The Library's online resources, including expanded access to e-books and streaming media, are available remotely for all UD students, faculty and staff. Virtual services, including research assistance, consultations, workshops and teaching collaborations, are available through the Library website. Live virtual assistance is available seven days a week through the Ask the Library service.
For more information, please visit library.udel.edu/continuity.
This article also appeared in UDaily.