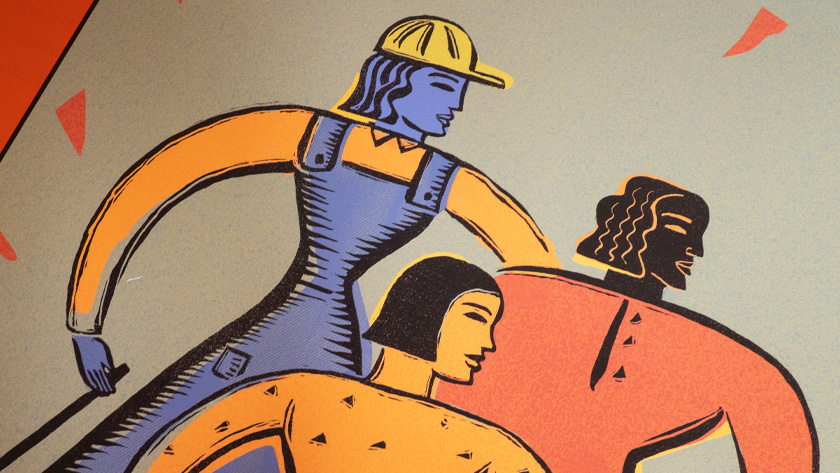 A poster from the "Women's Work Counts" poster series commissioned by the Women's Bureau from American Women Artists for the Women's Bureau 75th Anniversary in 1995. The poster is part of the Neala Schleuning Poster Collection in Special Collections.
In Her Own Words: Preserving Women's History in Special Collections
Every woman has a unique story to share.
Throughout the Library, Museums and Press, you'll find the voices, experiences and achievements of women celebrated in books, artworks and movies.
In Special Collections, you'll also find the extraordinary stories of women represented through personal papers, journals, diaries, photo albums, official records, awards, manuscripts, posters and more. These resources provide unique insights into the individual's life, while also speaking to women's issues and perspectives throughout history.
In honor of Women's History Month, we are highlighting a few of the women and women's organizations whose stories we help to preserve in Special Collections. 
L. Eudora Pettigrew

In 1981, L. Eudora Pettigrew was named associate provost for instruction at the University of Delaware, making her the first African American to hold a position in central administration at UD. Five years later, she became the first Black female president of the State University of New York (SUNY) system, where she continued leading until her retirement in 1999. She was also internationally renowned as a champion of disarmament education and world peace efforts as an executive member of the International Association of University Presidents (IAUP).
In Special Collections, the L. Eudora Pettigrew Papers chronicle more than 60 years of her life as a pioneering educator, administrator, community leader and global emissary. In the collection, you'll find speeches, essays, certificates and awards, photographs, diplomas, books and VHS tapes, and more that provide up-close, unique insights into Pettigrew's life as well as women in the field of education.
Pettigrew is one of many women whose stories and histories are preserved through their personal papers in Special Collections. Learn about other remarkable women including Alice Dunbar-Nelson, Pauline A. Young and Beverly Axelrod.
Esther Bolster and Mary Ann De Souza

While we don't know much about Esther Bolster and Mary Ann De Souza, we know two things for sure: They were very close friends; and they were fans of Jenny Lind, a popular 19th-century Swedish opera singer. Their friendship album, which you can find in Special Collections, stands as a unique testament to these facts and their friendship.
While many friendship albums in the 19th-century were often filled with poems, drawings and other reflections by a young girl's assorted friends, De Souza's friendship album was created entirely by Bolster. Bolster filled the pages with engravings and illustrations, images of flowers and ladies fashion, and sentimental verse as well as original poetry meant to amuse De Souza. Throughout the album, you will find themes of beauty, friendship and Jenny Lind, putting a spotlight on the essence and authenticity of their friendship.
Delve into the world of female friendship through other friendship albums from 19th-century women, such as Sarah Belville, Lillie J.S. Watt, and Jennie Wilds and Caddie Lynch. For researchers interested in friendship albums, the recently acquired David W. Lowden Collection includes more than 100 of these albums and is currently accessible by request.
Miriam E. Welliver

Miriam E. Welliver was a Pennsylvania public school teacher in the early 20th century. In 1934, she embarked on a month-long road trip with two other women and two men. Traveling through much of the eastern half of the United States by car, the group covered 5,100 miles, including 19 states and parts of Canada. One of the highlights of the trip was a visit with cousins in Illinois, and attending the Century of Progress World's Fair in Chicago.
Welliver documented this incredible journey in her travel diary, which is housed in Special Collections and contains handwritten journal entries, black-and-white photographs, postcards, telegrams, plant specimens and more. In sharing anecdotes and stories from life on the road, Welliver provided a first-person account of early 20th-century automobile travel, Chicago's World Fair, and a rich glimpse of life throughout the United States from her individual perspective.
The personal reflections shared in travel diaries provide unique looks into respective time periods. You can explore the experiences of other women on the move through more travel diaries, including those of Selina C. Washburn, Clementina Dalcour and C.B. Thomas. 
Delaware Women's Conference

Initially established in 1984 by the Junior League of Wilmington, the Delaware Women's Conference was an annual Delaware tradition that brought women together for learning and networking opportunities through 2011. It offered workshops on everything from spiritual practices to financial planning, and featured speakers, such as Geraldine A. Ferraro and Gloria Steinem. The organization, which sought to empower women of all ages, backgrounds and lifestyles, was the only all-volunteer women's conference in the United States.
In Special Collections, the Delaware Women's Conference Records document the shifting themes in workshops and keynote speakers over time, providing insight into women's issues and interests throughout a 28-year period. In the collection, you'll find notebooks documenting the conference planning process; correspondence between volunteers; program planning; evaluations from and demographics of attendees; and publicity and programs for the conferences—all of which lend unique insights into the changing priorities for Delaware women.
In Special Collections, you can discover insights into other women's groups in Delaware, including the New Century Club of Newark, the Woman's Club of Claymont and the American Association of University Women Delaware Division.
Whose story will you discover in Special Collections? Whether you're reading a woman's firsthand account in a diary that reflects social customs or browsing an array of posters on women's issues, there's always a new voice and perspective to explore.
Learn more about how to use these distinctive resources in your research. Many items have been digitized and are available to view online. There are also online exhibitions that highlight women and women's issues readily available for browsing. To see the rare and unique materials up close and in person, all are welcome to make an appointment to visit Special Collections.