Residency Program
The Pauline A. Young Residency offers professional experience in a technology-rich, academic research library setting to recent graduates of ALA-accredited master degree programs. The three-year residency is designed to meet both the professional goals and interests of the resident as well as the service and operational priorities of the University of Delaware Library, Museums and Press.
The 2020-2023 Residency specializes in visual literacy instruction. The Resident participates in the life cycle of museum exhibitions, sets personal learning goals related to teaching, and provides leadership in instruction-related projects in the library and museums, resulting in a diverse portfolio of instructional activities.
The  2023-2026 Residency is focused on open education, open access, and publishing. The Resident will have the opportunity to lead efforts to develop sustainable workflows around OER publishing.
The purpose of the residency is to increase the diversity of professional staff at the Library and to encourage the involvement of under-represented racial and ethnic minorities in academic librarianship.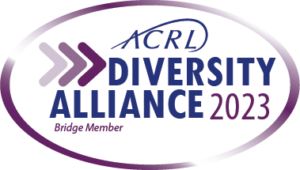 We are excited to be a member of the ACRL Diversity Alliance to network with residency programs in other academic libraries.
Opportunities
Explore current issues in academic librarianship
Flexible, individualized professional development plan
Structured and informal mentoring
Overview of the internal workings of an ARL library
Library committee service
Specialized training and workshops
Travel support for conferences of professional library organizations
Experience with latest information technologies