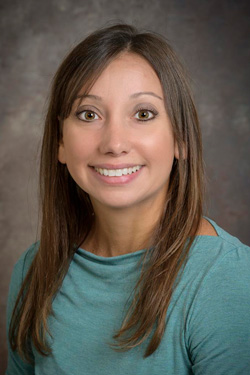 Making Diverse Voices Accessible
How a Professor Curated 300 Years of American Literature into an Open Access Anthology
Christine Grogan, assistant professor of English for the Associate in Arts Program, is constantly inspired to find ways to make education more equitable.
When one of the best writers and critical thinkers in her class admitted they couldn't afford the assigned textbook, Grogan recognized the need to adapt in order to support student needs.
With an Open and Affordable Teaching Materials grant, Grogan was able to curate a five-volume, open access anthology for ENGL 204: American Literature from the 18th Century to the Present that highlights diverse voices from the past 300 years. The resulting digital anthology, Authoring America: A Survey of American Literature from Its Beginnings to 2020, features full texts by more than 100 authors, introductions to major literary periods, student-written biographies of each author, and more than 100 historical images. It's also available to students at no cost.
Not knowing much about open educational resources before she began, Grogan dove headfirst into exploring what it would take to create such a transformational resource.
She will be the first to admit the project was a major undertaking. From the OER perspective, it meant brushing up on relevant guides and tools, researching different licenses, and connecting with other anthology editors. To curate 300 years of American literature, she consulted with her fellow UD professors to understand which texts they include when they teach the course so that it could be used in their sections as well. She also involved students in the process by having them write author biographies that are now published within the anthology.
While it was a lot of work, Grogan received support from the Library, Museums and Press and the Center for the Teaching and Assessment of Learning every step of the way. Whether it was a question about copyright, open educational resources, American literature, or the editing, formatting and accessibility of her anthology, Library staff were there to shepherd her work from start to finish.
Now used in Grogan's classes, the anthology has had a tremendous impact on her students and her teaching, with many of her students noting that having easy access to the anthology helped them learn.
"For some of you considering OER, the hard work of putting [material] together may already be done for you," Grogan encouraged. "It might be just a matter of searching around to find it. For others, who, like me, don't find what you are looking for, the [Open and Affordable Teaching Materials grants] support these endeavors… Go open!"
For more information on sourcing and using Open Source materials, please contact the library!