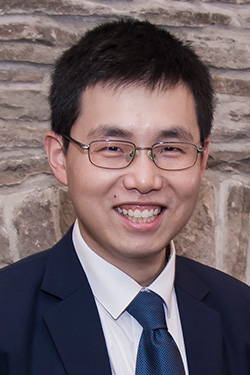 OER, But Make It Fashion
How a Professor Used Open Access Materials to Engage Students with Timely, Interactive Content
Sheng Lu, associate professor and director of graduate studies in the Department of Fashion and Apparel Studies, is passionate about finding engaging and accessible ways to foster student learning.
With support from a 2021 Open and Affordable Teaching Materials grant, Lu transformed the teaching materials he uses for FASH455: Global Apparel and Textile Trade and Sourcing in order to make the course more affordable and share the most updated industry trends with students.
To replace the textbook, which typically costs students about $100 and makes it difficult to provide current information, Lu developed an extensive reading package that includes more than 250 pages of articles from publicly available sources as well as articles he has written from his own research and expertise. It is available at no cost to students.
In addition to the reading package, Lu uses a website that he designed as a learning platform for the course. On the website, he posts original blogs with timely and freely accessible insights on significant industry developments, business practices and policy shifts. As part of the course, each student shares thoughtful comments on at least six of these distinct posts. This exercise encourages students to apply what they learned in the lectures to think and solve real-world problems. Students also find this assignment helps improve their critical thinking and quantitative reasoning skills.
Through the grant, Lu was able to expand the content available on the site and to continue fostering the interactive conversations that extend outside the classroom and into the real world. He has also been able to begin turning the website into an open educational resource unto itself by providing specific instructions on how to help other faculty who are teaching global apparel trade and sourcing courses incorporate the resources available through the website into their own courses.
"I am very pleased to see students report very positive learning experiences using OER in the course," Lu explained. "… Students consistently say they like the opportunity to learn with the up-to-date information from the readings and the blog posts, and find them engaging and relevant. OER works in FASH455!"
For more information on sourcing and using Open Source materials, please contact the library!