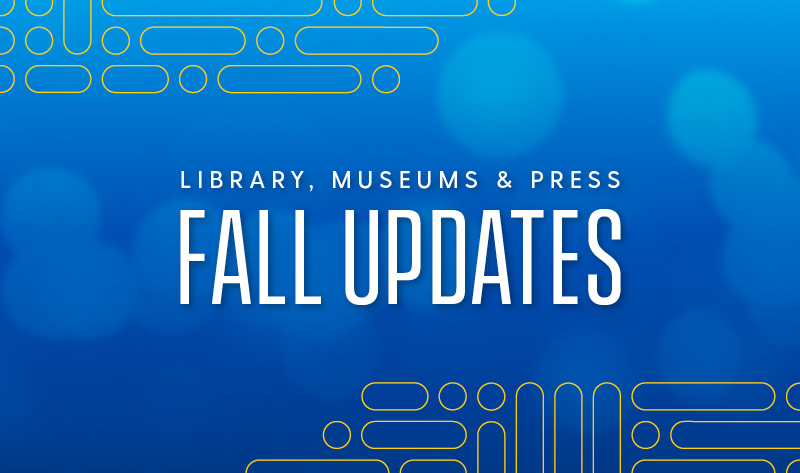 Library, Museums and Press Staff
August 24, 2021
Library, Museums and Press Updates for Fall 2021
Updated September 1, 2021
Open*
Morris Library
Old College Gallery
Mechanical Hall Gallery
Mineralogical Museum
Special Collections Gallery
Education Resource Center
Chemistry Library
Physics Library
Marine Studies Library
Lewes Campus
* Hours of operation can be found here
Available
Printing
Multimedia studios
Individual and group study rooms
Access to book stacks
Holds service
Research consultations
Video and gaming spaces
Viewing Room
Reserved for Instruction
Associate in Arts Program Delivery
Distance Learning DELivery Service
Morris Library
During the fall semester, which begins August 31, Morris Library will be open to students, faculty, staff and the public.
Library visitors will be able to browse the book stacks to find their desired materials. For assistance locating their books in the stacks, they can turn to the Library's online catalog. Each listing features a map that shows where the item is located in the building.
Those with UD ONEcards or public borrower cards can also use the Holds service to request books, DVDs, Blu-rays and video games in advance. These items can then be picked up at one convenient location—the Help Center, located near the entrance.
At the Help Center, visitors can also:
Receive research assistance.
Retrieve materials they requested through Interlibrary Loan.
Reserve lockers and graduate student carrels.
Check out laptops, headphones and chargers.
Sign up for a Public Borrower Card.
Faculty can reserve materials for their courses, and students can access those materials at the Help Center.
Students, faculty and staff will be able to reserve study rooms for group work or individual use.
Those in need of help with their research can connect with a librarian via chat, text or email. They can also schedule a one-on-one consultation with a librarian or stop by for an on-demand consultation. Visitors can also schedule interlibrary loan consultations for extended discussions about their needs and requests.
In the Student Multimedia Design Center (SMDC) on the lower level, visitors can use the multimedia studios and instruction rooms to create video, audio and graphic design projects.
Individual and group spaces can be reserved in the SMDC to view films or play video games. Instructors can reserve the Viewing Room for class use. Visitors can also check out DVDs, Blu-rays and video games from the SMDC if they have not requested those items in advance.
For students, faculty and staff who are not on campus, our digital resources remain available 24/7 once they log in with their UD credentials. Those who are in the Associate in Arts Program or a UD distance learning program can also have print materials shipped to them via the Associate in Arts Program Delivery and the Distance Learning DELivery Service.
Gallery Spaces
Old College Gallery, Mechanical Hall Gallery, the Mineralogical Museum in Penny Hall, and the Special Collections Gallery in Morris Library will open on September 7. Admission is free.
The following exhibitions will be on view for the UD community and the public to visit:
For those who are not on campus, there are many additional exhibitions available online.
Branch Libraries
The Education Resource Center, the Chemistry Library, the Physics Library, and the Marine Studies Library on the Lewes Campus will be open during the fall semester.
With the Lewes Campus closed to the public, the Marine Studies Library is open to UD students, faculty and staff only.
Updated September 1, 2021
In-Person Event Guidance: In-person event attendees must RSVP and will need to show ID upon arrival. Those who do not have a UD ID (members of the public) will also need to provide proof of full COVID-19 vaccination or a negative PCR coronavirus test taken within 72 hours of the event. This can be done in advance through the Visitor Events Health Pass or upon arrival to the event. If you have already uploaded your vaccination record to the Health Pass to attend a previous UD event, you do not have to re-upload it to attend another event.
In addition, all attendees will need to complete the UD Daily Health Check the day of the event, and show the green check display reflecting health clearance upon arrival. Regardless of vaccination status, everyone must wear face masks at all times while indoors.