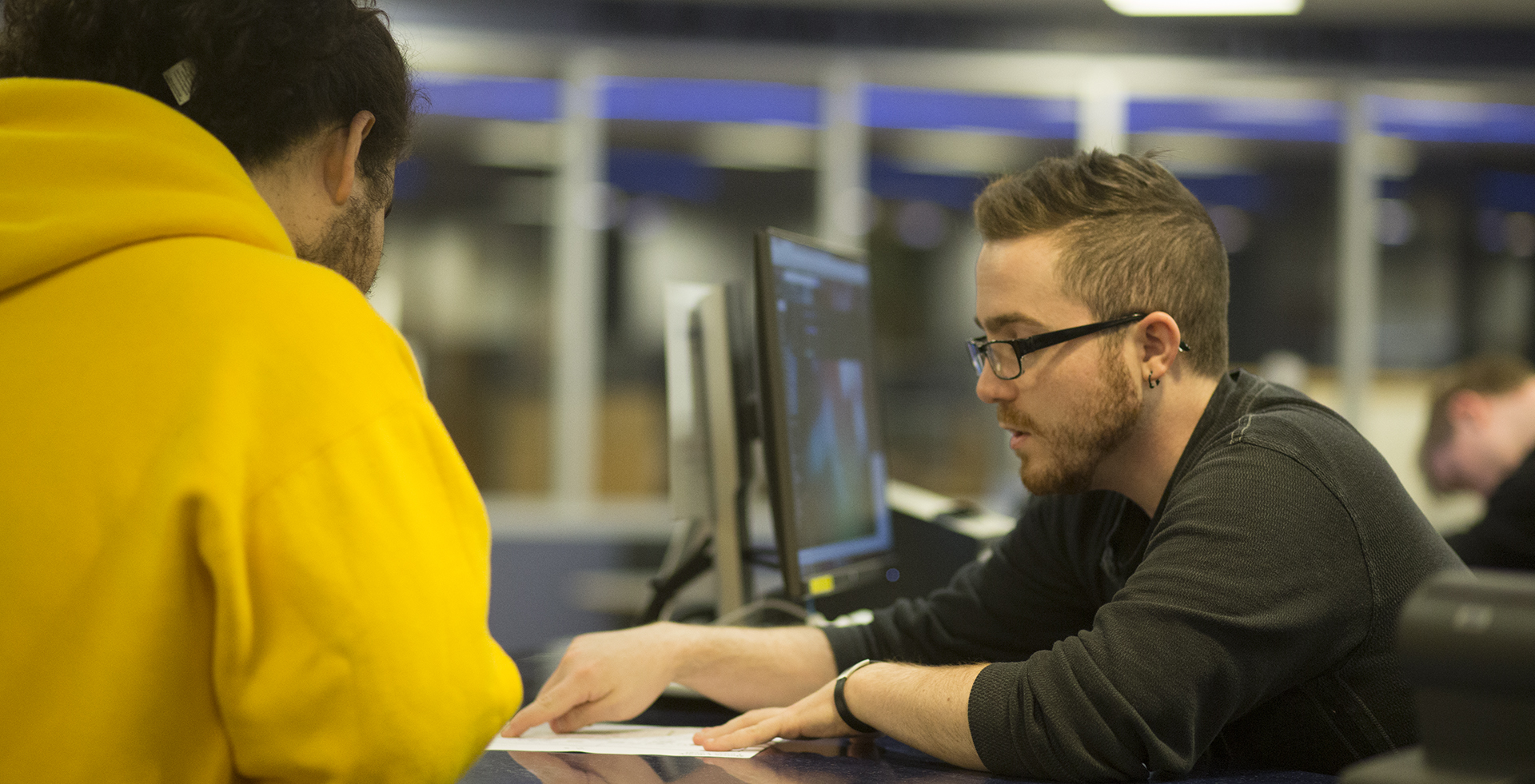 Tyler Haupt helps a student at the SMDC service desk.
Student Multimedia Design Center to the Rescue
Article by Allison Ebner
It was just a few years ago when students in journalism courses used the Student Multimedia Design Center studios to record mock newscasts, complete with giant video cameras and a newsdesk. Now, students in those same classes borrow specialized phone accessories—tripods, microphones and more—to create high-quality news reports on the go.
Technology is always changing, and it happens quickly.
Whether it's new software, new equipment or new techniques, it can be a challenge for students, staff and faculty to keep up to date with the latest trends and capabilities. That's where the friendly faces behind the Student Multimedia Design Center (SMDC) desk come to the rescue.
The Basics
Whether you want to learn how to upload a video, print a poster or use a recorder to take notes in class, the SMDC staff will show you the fundamentals.
"One night during this past semester, an English professor here at UD approached me asking how to use a computer to upload YouTube videos," Gio Chacon, an SMDC student assistant and sophomore studying mechanical engineering, explained. The professor had checked out a camera from the SMDC and wanted to share them with her students via YouTube.
Chacon walked the professor through the process of uploading videos to UD Dropbox, explaining that the platform would allow her students to more easily access the files. He also showed her best practices for emailing and sharing videos. "For a couple of weeks, the professor would come in and [we] would assist her with whatever [technology questions] she had."
The Next Level
You've created a video, designed a poster or recorded a podcast. Now what? How can you transform your project into something more creative and polished?
Try incorporating special effects and tools from specialty programs, including those from the Adobe Creative Cloud, available in the SMDC. If you have an idea for what you want to do within a project, talk to someone at the SMDC desk to get concrete ways on how to bring it to life.
"During the summer, I helped a Ph.D. student and their whole department work on a promotional video," Sam Olatunji, an SMDC student assistant and junior in the nursing program, recalled. "They came in with an idea, and I thought of ways to make it happen. I was able to show them green screen effects and more, and they were happy with the end result."
Through his own projects, Olatunji has particular strengths in video editing software like iMovie and Final Cut Pro, and animation and visual effects programs like After Effects. Like all student assistants, he has access to and is encouraged to use technology training, where he can dive deeper into specific programs and share his expertise with students, staff and faculty. Consider SMDC staff and student assistants an asset when it comes to familiarizing yourself with the latest software.
The Ultimate Goal
Students, how many papers do you write in a given semester? Faculty, how many do you assign? With so much technology at your fingertips in the SMDC, rethink the way you engage with your research and study materials.
If creating a thought-provoking podcast, a storyboarded video or a three-dimensional drawing helps you interact with and understand the material in your classes better, make it. These skills and the ability to present information in a dynamic manner are invaluable.
Faculty can encourage this type of creative interaction with course materials by incorporating multimedia assignments into the syllabus. "We work with faculty directly on their assignments and bringing the students in to understand the resources available here," Nico Carver, senior assistant librarian and coordinator of Student Multimedia Design Center Services, explained.
If you need help coming up with an impactful project, reach out to SMDC staff for help tailoring an assignment to your course. "[Nico] trained my environmental journalism students to make mini documentaries," McKay Jenkins, a professor in the Department of English, said. "My students went from knowing nothing to being quite competent in their practice of digital journalism."
Departments across all disciplines have incorporated multimedia projects. Art Department classes have used the virtual reality studio to see how their 3-D designs interact with light. Classes from the Plant and Soil Sciences Department have used Adobe Illustrator to turn field drawings into vector formats for woodcutting, and used Photoshop to create realistic renderings of their landscape designs.
Whatever the subject, the SMDC staff can create an opportunity for both faculty and students to bolster their multimedia prowess while discovering new ways to engage with scholarship.
SMDC staff and student assistants are an invaluable resource. Learn from them throughout the semester during workshops on topics including GIS, After Effects, iMovie, Photoshop, poster design and creative photography. View the workshop calendar here.