Help Accessing Materials
You might discover books or articles that are the perfect sources for your research, but which are not held by the University of Delaware Library, particularly when using DELCAT Discovery, which contains items from libraries around the world. You can use Interlibrary Loan to request articles and books. Please note that articles are delivered electronically, while print books can only be delivered to Morris Library and must be picked up there.
Search DELCAT Discovery to identify useful research materials that other libraries may have. Under "Access Options," items that are not owned by UD will display an option to make an Interlibrary Loan request using the "Get This for Me!" button.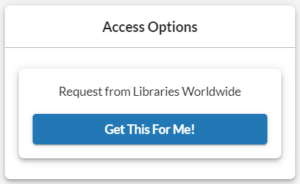 Books that you request through Interlibrary Loan will be delivered to the Morris Library for you in about two weeks, and you will be notified via email when they are available for pickup at the library. Articles requested through Interlibrary Loan will arrive in your Interlibrary Loan account in about two business days. You'll get a notification via email and directions on how to download a PDF of the article.
Back to Tutorials list