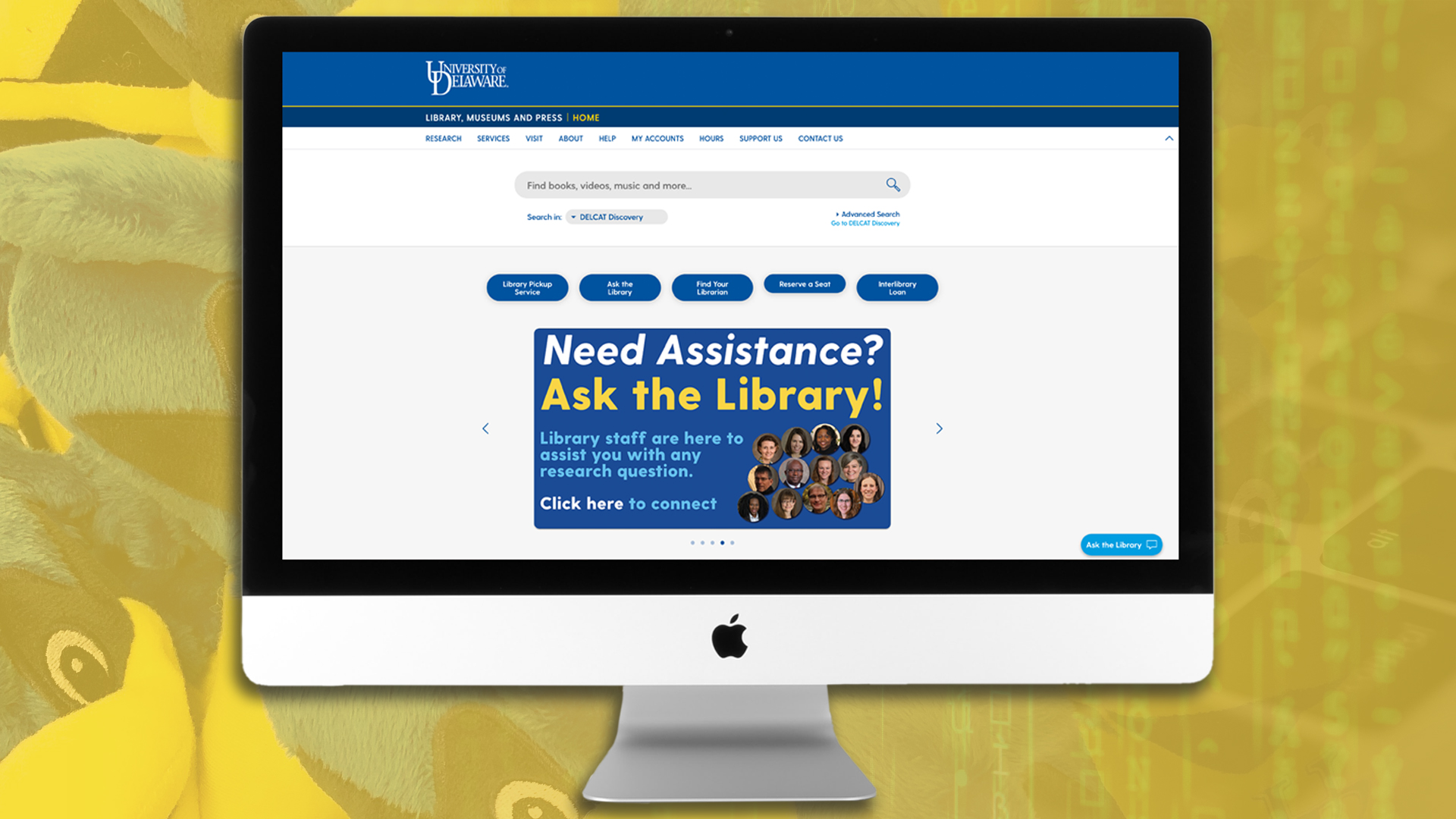 A Blue Hen's Guide to Using the Library, Museums and Press Online
Article by Allison Ebner | Graphics by Kris Raser
Whether you're learning and working remotely or on campus this semester, there are many ways the Library, Museums and Press can help ensure you have a smooth and successful semester.
As a UD student, faculty or staff member, here are a few things you can do with our online services and resources from wherever you are:
Locate materials for your research, class assignment or personal interest.
There are a number of online resources available to you 24 hours a day, 7 days a week. You can search our databases, e-journals, e-books, research guides and digitized materials for information related to your topics of interest. You can also check out popular fiction and nonfiction titles as e-books or audiobooks through OverDrive. Looking for materials in any format? You can do a broader search across all of our collections through our catalog.
Find books similar to the one you're looking for.
If you miss being able to browse the shelves and discover other titles that may be of interest, we have good news: You can still do this online. Check out this quick tutorial to learn how.
Stream films and documentaries.
As part of the UD community, you have access to tens of thousands of streaming media titles for research, instruction and recreation. Not sure which popular films and documentaries to start with? Try some of our staff recommendations.
Request PDFs of book chapters and journal articles.
With the Article DELivery Service, you can request copies of articles and book chapters from our print and microform collections. Through Interlibrary Loan, you can request journal articles and book chapters from other libraries. Your requested materials will be delivered electronically, so you can continue researching even while you're away from Morris Library.
Reach out for help.
Whether you need help navigating a specific database, using citation management software or locating research materials for a project, we're here for you. You can ask us your questions via chat, email, phone or text. Faculty can also reach out to our teaching team to learn how our staff can support your virtual teaching this spring with custom research guides, live Zoom sessions, assignment toolkits and more.
Schedule a research consultation.
During this time of hybrid learning, our librarians are available for virtual one-on-one or small group consultations. Reach out to the librarian for your department or research interests to schedule an appointment.
Go on a virtual field trip.
With more than 200 online exhibitions just a click away, there are plenty of new things to learn and discover from the comfort of your couch. Take a trip into the worlds of forgeries , African American literature, typefaces and fonts, environmental concerns, Jell-O, the Beat Generation, Shakespeare, the Civil Rights movement, Delaware history and so much more.
Access specialized computer software.
If you need access to software like Adobe Creative Suite, Audacity or Tableau to enhance your research or assignment, turn to our remote labs. Click here for a full list of available software and instructions on how to get remote access.
Stay informed.
Through the Library's subscriptions to the Wall Street Journal, The New York Times and The Washington Post, you can read and watch all content from each newspaper for free. To learn how to navigate misinformation and disinformation, explore our research guide, Busting Fake News: Evaluating Online Information.
Learn a new skill.
Interested in learning the basics of graphic design? Curious how text mining could enhance your research? Register for one of our many virtual workshops this semester, ranging in topics from copyright to data management to website creation.
Close to campus? Request books, DVDs and multimedia equipment to pick up.
You can use the Library Pickup Service to request a variety of materials—books, DVDs, video games, journals, multimedia equipment and more—online. You can even request print books not in our collections through Interlibrary Loan. Once your materials are ready, you can pick them up from one convenient location in Morris Library.